(5 m, 6 w, 3 boys, 3 girls, doubling possible)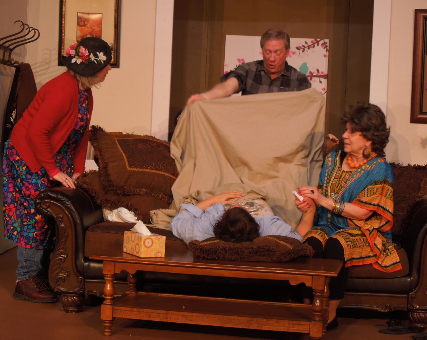 Leona, Love Thy Neighbor, Too
Champion marigold horticulturist, neighborhood snoop, and generally nasty human being Leona Crump is back! Nine years earlier she was tricked into selling her home and nearly ousted from her neighborhood as the result of an elaborate charade instigated by her friends and foes. But now, finally, her old house is back on the market and Leona is determined to move back home. Unfortunately, the real estate agent has been instructed to never sell the house back to Leona. Reluctantly, Leona partners with her estranged sister Francine (who has an agenda of her own) and the two of them pounce on the opportunity of a decade. But just as Leona begins to enjoy the fruits of her victory, Albert, her ex-husband, shows up and with the help of neighbors Judy and Paul and their six children, they turn Leona's world inside out. Determined to reign again as queen of the cul-de-sac, Leona brazenly plots to choose replacement neighbors that will fit her idea of utopia. That is, until a reformed mafia family shows up wanting to buy Leona's house. Suspecting yet another charade and conspiracy, Leona goes off the deep end leaving everyone to wonder: Is she really the neighborhood witch? Or just slightly, but hilariously, misunderstood?
"I haven't laughed so much in years! Thanks to Kerry Green, Director, and all the players for a most entertaining and hilarious evening of laughs."
-- Darrell Franson, audience member, Rebels Bluff Troupe, Mt. Vernon, MO
"Leona..." broke all box office records as the centerpiece of our 25th anniversary season. From the time we announced we would produce "Leona", about nine months before opening night, our audience began to reminisce about "Love Thy Neighbor" and the characters they remembered and loved. The cast found the script endearing and our audiences laughed from the opening scene until curtain call. We have come to know Gary and his plays as can't-miss choices for our audiences. Leona is a hit! Should she ever return in a third installment, she'll find there is always a home on the Chamber Players stage for her and the entire cul-de-sac of neighbors."
-- Tom Emerson, Jr. , Business Manager for the Board of Directors, The Chamber Players Community Theatre, Garnett, KS